NOTE from the Editor:
After twenty months away, preparations have begun in earnest for my return to Oregon from pandemic-lockdown in Colombia. The final work on my two volume, seven novelette set, Archipelago & Oakley, will become the focus of my efforts until completion. To accommodate the needs of both the Post & Review and the publishing process, this newsletter will go from a weekly to a bi-weekly publication.
A way is being sought to provide a complete list of themed words explored in quotes by the Post & Review over the last fifteen months. Stay tuned.
_____________
Quoted In The Grove:    search
You're searching… For things that don't exist; I mean beginnings. Ends and beginnings – there are no such things. There are only middles.
~Robert Frost
Shake structures. School yourself. Look twice at a thing, once upside down. Answer yourself clearly.
~Mary Anne Radmacher
One can think effectively only when one is willing to endure suspense and to undergo the trouble of searching.
~John Dewey
EndQuote:
People hate searching.
~Sam Altman
~~
Prewritten Prompt for 05/16:   mirror
~~
What a fearfully distracting, perplexing and heart-searching business it is to live.
~Dorothy Canfield Fisher
No man, with a man's heart in him gets far on his way without some bitter, soul-searching disappointment. Happy is he who is brave enough to push on to another stage of the journey.
~John Mason Brown
It may actually be more healthy to be disturbed, confused, or searching than confident, certain, and secure.
~Mark Scandrette
Never mind searching for who you are. Search for the person you aspire to be.
~Robert Breault
~
Every moment of searching is a moment of encounter.
~Paulo Coelho
Each moment spent searching is also a moment spent finding.
~Paulo Coelho
Searching and the route we take are more important than making a find.
~Yehudi Menuhin
It amazes me what humans can do, even when streams are flowing down their faces and they stagger on, coughing and searching, and finding.
~Markus Zusak
~
We can all afford to do a little soul-searching about the choices we make and the way we live our lives, but sometimes searching one's soul doesn't provide the answers we seek.
~Danielle de Niese
I brought you here to tell you this: sometimes what we are searching for does not exist. We may sacrifice for it, even bleed for it, but it was never meant to be ours.
~Esther Dalseno
The trouble with trying to find a brown-covered book among brown leaves and brown water at the bottom of a ditch of brown earth in the brown, well, grayish light of dawn, was that you couldn't.
~Neil Gaiman & Terry Pratchett
What should I possibly have to tell you, oh venerable one? Perhaps that you're searching far too much? That in all that searching, you don't find the time for finding?
~Hermann Hesse
~ ~
Posted From The Grove
We have always been searching for home. It's in our art… our religion… everything.
~Richard Blanco
Some are born in their place, some find it, some realize after long searching that the place they left is the one they have been searching for.
~Wallace Stegner
A man travels the world over in search of what he needs and returns home to find it.
~George Moore
My way is set as in stone, and I don't feel the need to veer off any longer. It has taken many days of searching and fighting, but in the end I have found what I was looking for. I have found my way home.
~Patrick Carman
I was searching all the time for something that I'd never lost or left behind.
~Jim Croce
I have read somewhere that we often spend a lifetime searching for what we already have.
~Mary Balogh
~
Home can be the friend you have been searching for all your life or the person you met once very briefly.
~Ben Okri
For years I've been searching for a homeland, finally I found it in you
~Seja Majeed
~
If travel is searching and home what's been found, I'm not stopping. I'm going hunting.
~Bjork
As long as we keep searching, the answers come.
~Joan Baez
~~
~Mantl Reps:  Search   (2:05)   the quest, in free form
https://vimeo.com/478209652
~
~DVP: "Searching For" Teaser   (2:00)   main character: snow
https://vimeo.com/161608879
~
~Francis Theo:  Searching My Root   (4:38)   hand-drawn book, record of journey to roots
https://vimeo.com/126993330
~
~Lifetime:  Searching for Neverland   (1:35)   lesson for the Moonwalk
https://www.youtube.com/watch?v=zXL_PY4JcaQ
~~
A man searching for paradise lost can seem a fool to those who never sought the other world.
~Jim Morrison
Listen to your own voice. Don't listen to someone else's. To me the way to live is to always move forward – to keep searching for whatever it is that interests you.
~Neil Young
I must continue to follow the path I take now. If I do nothing, if I study nothing, if I cease searching, then, woe is me, I am lost. That is how I look at it – keep going, keep going come what may.
~Vincent Van Gogh
~
I read and walked for miles at night along the beach, writing bad blank verse and searching endlessly for someone wonderful who would step out of the darkness and change my life. It never crossed my mind that that person could be me.
~Anna Quindlen
When searching for harmony in life one must never forget that in the drama of existence we are ourselves both actors and spectators.
~Niels Bohr
In the beginning, I was searching for myself in my music. My music was for me. I didn't have the mental room to be conscious of the listener; I wrote to save myself.
~Ayumi Hamasaki
I don't make changes to confuse anyone. I'm just searching. That's what causes me to change. I'm just searching for myself.
~David Bowie
In search of myself, I have created myself.
~Ljupka Cvetanova
~
In searching for the self, one cannot simultaneously be the hunter and the hunted.
~Gilbert Ryle
Most people are searching for a path to success that is both easy and certain. Most paths are neither.
~Seth Godin
I was searching for someone who could make me happy and then I saw myself in the mirror and realized it was me.
~Harish Muralidhar
~~
VIDEO:
A genuine leader is not a searcher for consensus but a molder of consensus.
~Martin Luther King, Jr
Genuine heroes – no batteries needed – bring lots of open-mind and at least a little courage.
~Jonathan Lockwood Huie
A warrior never gives in to fear when he is searching for what he needs.
~Paulo Coelho
You need to make a commitment, and once you make it, then life will give you some answers.
~Les Brown
The journey between what you once were and who you are now becoming
is where the dance of Life really takes place.
~Barbara De Angelis
He did not waste time in a vain search for a place in history.
~Dejan Stojanovic
~
For most men life is a search for the proper manila envelope in which to get themselves filed.
~Clifton Fadiman
Better you don't search for who you are until you know who it is you want to find.
~Robert Brault
The very first step in searching for a person, place, or thing, is to define exactly what it is you seek.
~James A Murphy
The voyage of discovery is not in looking for new landscapes, but in looking with new eyes
~Marcel Proust
What you discover on your own is always more exciting than what someone else discovers for you; it's like the marriage between romantic love and an arranged marriage.
~Terrence Rafferty
One of the greatest joys known to man is to take a flight into ignorance in search of knowledge.
~Robert Staughton Lynd
~~
~Dust:  Seechers   (17:20)   seeker's adventure story
https://www.youtube.com/watch?v=CstNDziXkts&t=228s
~
~Omeleto:  Sisters   (10:54)   just because
https://www.youtube.com/watch?v=rgteZ70RLD4
~~
What I keep searching for in movies, more and more, is the right gravity.
~Lorenzo di Bonaventura
If you will stop all searching right now and tell the truth to yourself…
~Gangaji
When you are searching for knowledge, knowledge is also searching for you.
~Debasish Mridha, MD
~
We ascribe meanings because it is our nature to do so. We can no more see a thing without searching for a meaning than we can see a snag in a robe without pulling on the loose thread.
~Kij Johnson
Every human being is searching for a deep sense of meaning, and yet we're all chasing success. We've confused one for the other.
~Donald Miller
To me, I think I'm just going to keep focused and forward on what I'm doing, work-wise, rather than searching for any kind of meaning in it.
~Joel Edgerton
~
Learning is searching; anything else is just waiting.
~Dale Dauten
You discover nothing; you only learn of what you have been ignorant of so far.
~Lamine Pearlheart
Align yourself with people that you can learn from, people who want more out of life, people who are stretching and searching and seeking some higher ground in life.
~Les Brown
I'm interested in people who have lived, who are searching and questioning.
~Maria Bello
Searching is half the fun: life is much more manageable when thought of as a scavenger hunt as opposed to a surprise party.
~Jimmy Buffett
~~
MUSIC:
"Art is a kind of mining," he said. "The artist a variety of prospector searching for the sparkling silver of meaning in the earth."
~Jane Urquhart
You cannot gather much truth by searching the fields; you must sink shafts.
~Austin O'Malley
~
Painters are amongst the priests – worker priests of the cult of man – searching to understand but never know.
~Brice Marden
The world becomes more rewarding when you let yourself look beyond what you're searching for.
~Candy Chang
Creativity exists more in the searching than in the finding.
~Stephen Nachmanovitch
Painting to me is constant searching. I can see what I want, but I can't get there, and yet you have to be open enough that if it goes another way, then let it go that way.
~Jamie Wyeth
Horror films do not prepare us for the hours lost in searching after one clear thought.
~Norman Mailer
Artists are always searching for beauty – and when they find it and fashion it in their own unique way – it does not seem too important to analyze how it came about.
~John Kurtz
~
There is a danger of changing too much in the search of perfection.
~Agnetha Faltskog
To me, searching for perfection isn't anywhere near as interesting as trying to find your own voice.
~Charlie Trotter
~
Roaming through the jungle of "Ohs" and "Ahs" searching for a more agreeable noise, I live a life of primitivity with the mind of a child and an unquenchable thirst for sharps and flats.
~Duke Ellington
The most important thing in a piece of music is to seduce people to the point where they start searching.
~Brian Eno
It's interesting when something new comes along, a band of dwarfs playing electronic harps or something, but I'm not searching.
~Jimmy Page
I am searching for the truth. Somewhere, it's in the music.
~Paula Cole
Music is love searching for a word.
~Sidney Lanier
~
When you're obsessive, like me, searching for something unattainable can become unhealthy… it's like falling through the air and grabbing at the clouds.
~Jonny Wilkinson
I've been called many names like perfectionist, difficult and obsessive. I think it takes obsession, takes searching for the details for any artist to be good.
~Barbra Streisand
I am a searcher… I always was… and I still am… searching for the missing piece.
~Louise Bourgeois
~~
~HomeStrum:  Searching for   (3:25)   …and finding
https://vimeo.com/119597411
~
INXS:  Searching   (4:40)   alone and searchin', in concert
https://www.youtube.com/watch?v=FNrPQP2H-3M
~
~Giana:  searching for love   (2:04)   love or lie
https://www.youtube.com/watch?v=DOYXV-cZ-50
~
~Mazaury Delgado:  The Search   (1:30)   layers falling away, Lana del Ray sings
https://vimeo.com/87515410
~~
Having perfected our disguise, we spend our lives searching for someone we don't fool.
~Robert Breault
In this world, it is too common for people to search for someone to lose themselves in. But I am already lost. I will look for someone to find myself in.
~C JoyBell C
When you are lost in the right way, you don't go back to being found in the wrong way.
~Melody Lee
~
I did the searching and remembering, she did the disappearing and the forgetting.
~Ann Brashares
Where did all those feelings go? People spend their whole lives looking for love. Poems and songs and entire novels are written about it. But how can you trust something that can end as suddenly as it begins?
~Nicola Yoon
There is so much hurt in this game of searching for a mate, of testing, trying. And you realize suddenly that you forgot it was a game, and turn away in tears.
~Sylvia Plath
What the world's million lips are searching for, must be substantial somewhere.
~William Butler Yeats
~
Anyone who falls in love is searching for the missing pieces of themselves.
~Haruki Murakami
What the poet is searching for is not the fundamental I, but the deep you.
~Antonio Machado
The fact is, you can't marry the best when you're dating the runner-up. While you're searching for Mr. Right, don't settle for Mr. Right Now.
~Craig Groeschel
That's the mistake people make – always searching for the perfect match, when they would be just as happy if they settled for somebody reasonably good.
~Farahad Zama
NOTE:  There are too many quotes on searching for love, and a separate quote page has been created for a more nuanced approach to this task.  Click here to view
~~
~~
I have spent a lot of time searching through the Bible for loopholes.
~W C Fields
One who roams the channels after dark, searching for buried treasure.
~Harriet Van Horne
Searching through Monster.com while on the clock feels like being on Tinder while still married.
~Crystal Woods
Here I am flying high over enemy lines in my Sopwith Camel searching for the Red Baron. Who's that behind me? It's the Red Baron! He has me in his sights! Give my regards to Broadway.
~Charles M Schulz
I'm not looking in every nook and cranny for it. I'll do the nooks. No way I left my keys in some fucking cranny."
~Bo Burnham
~
Every Librarian is a highly trained agent. An expert in intelligence, counterintelligence, Boolean searching, and hand-to-hand combat.
~Mac Barnett
He looked at her with his green don't-lie-to-me-woman eyes and Scarlet dropped her guilty gaze to the mahogany desktop, searching around until she found a paperweight shaped like a pyramid to stare at.
~Chelsea Fine
If I'm researching something strange and rococo, I'll go to the London Library or the British Library and look it up in books.
~Ben Schott
Abode where lost bodies roam, each searching for its lost one.
~Samuel Beckett
One can spend too much of one's life locked in stuffy rooms seeking out obscure truths, searching, researching, until one is too old to enjoy life.
~Jimmy Sangster
~~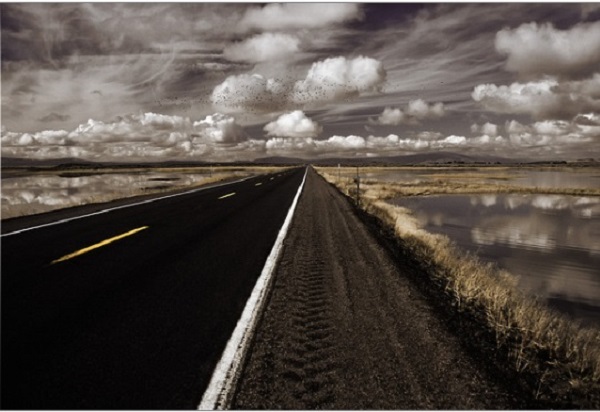 Road, Klamath Series
© David Lorenz Winston
~~
It's a lot easier to be lost than found. It's the reason we're always searching and rarely discovered – so many locks not enough keys.
~Sarah Dessen
All the clues are there in front of us,
hidden under a veil
we cannot get the clue by searching for it,
we have to search for the veil instead.
~Arkopaul Das
If you are searching for sacred knowledge and not just a palliative for your fears, then you will train yourself to be a good skeptic.
~Ann Druyan
I was a terrible believer in things, but I was also a terrible nonbeliever in things. I was as searching as I was skeptical. I didn't know where to put my faith, or if there was such a place, or even what the word faith meant, in all of it's complexity. Everything seemed to be possibly potent and possibly fake.
~Cheryl Strayed
~
There is a difference between finding trouble in your path and going out of your way searching for it.
~R A Salvatore
The gods know what's important, what's wrong about you. They know everything. If you go out searching for the Holy Grail, they won't let you find it.
~Tom Spanbauer
In the beginning the gods did not at all reveal all things clearly to mortals, but by searching, men in the course of time, find them out better.
~Xenophanes
If we have too much clarity, we might not be compelled to continue searching for new ideas.
~Rirkrit Tiravanija
You will find the Divine in the last place, because once you find it, you will not go on searching.
~Sri Sri Ravi Shankar
Daddy was always searching for new adventure – always looking for a revelation. He used to say 'If you climb every mountain and walk into every valley, one day you'll surprise the Great Creator at his work.
~John McLay
Instead of searching for what you do not have, find out what it is that you have never lost.
~Sri Nisargadatta Maharaj
~
I was emotionally and spiritually dried up, so I was just searching for God.
~Scott Stapp
I've been praying to God to show me how to forgive myself. Because… maybe… that's the thing I've been searching for.
~Mary J Blige
Our life is not given to us like an opera libretto, in which all is written down; but it means going, walking, doing, searching, seeing…. We must enter into the adventure of the quest for meeting God; we must let God search and encounter us.
~Pope Francis
God is not a celestial prison warden jangling the keys on a bunch of lifers – he's a shepherd seeking for sheep, a woman searching for coins, a father waiting for his son.
~Clarence Jordan
~
Still amazes me that people spend more time researching a new vehicle than they do the religion they entrust their souls to.
~Larissa Ione
"It sounds to me, young one," Haddek said, "that you are searching for something that cannot be found." "The truth?" Sazed said. "No," Haddek replied. "A religion that requires no faith of its believers."
~Brandon Sanderson
It is not only that there is no hiding place for the gods from the searching telescope and microscope; there is no such society any more as the gods once supported.
~Joseph Campbell
Doubt is part of searching. Same as faith.
~Gayle Forman
~
Reporters are faced with the daily choice of painstakingly researching stories or writing whatever people tell them. Both approaches pay the same.
~Scott Adams
~ ~
@Writers Platform
Planning to write is not writing. Outlining, researching, talking to people about what you're doing, none of that is writing. Writing is writing.
~E L Doctorow
Writers are notorious for using any reason to keep from working: over-researching, retyping, going to meetings, waxing the floors – anything.
~Gloria Steinem
Outlining is not writing. Coming up with ideas is not writing. Researching is not writing. Creating characters is not writing. Only writing is writing.
~Harlan Coben
There's an awful temptation to just keep on researching. There comes a point where you just have to stop, and start writing.
~David McCullough
~
The man who comes to writing late, but is in essence a writer, may sometimes gain as much as he has lost: his experience of life has given him a subject, he is spared the youthful writer's self-torment and soul-searching.
~Wright Morris
Creative expression, whether that means writing, dancing, bird-watching, or cooking, can give a person almost everything that he or she has been searching for: enlivenment, peace, meaning, and the incalculable wealth of time spent quietly in beauty.
~Anne Lamott
~
Reporters are faced with the daily choice of painstakingly researching stories or writing whatever people tell them. Both approaches pay the same.
~Scott Adams
We're all alive, but we don't know why or what for; we're all searching for happiness; we're all leading lives which are different and yet the same.
~Anne Frank
Never be grandiloquent when you want to drive home a searching truth. Don't whip with a switch that has the leaves on, if you want it to tingle.
~Henry Ward Beecher
Writing a novel is actually searching for victims. As I write I keep looking for casualties. The stories uncover the casualties.
~John Irving
~
The good writer and the good actor are always searching for what is essential. It is a never-ending task because what is essential is always elusive and, therefore, fascinating.
~Glenda Jackson
I have never had time for the idea of searching. Whenever I wanted to express something, I did so without thinking of the past or the future.
~Pablo Picasso
~
Writing is a process of creating yourself again and again for an ever-searching mind.
~Debasish Mridha
I guess there's a sort of cycle with writing books. There's all the researching and then the imagining and writing – which is the real job – and then there's always a period when the book comes out and you have to lift your head and venture out.
~Monica Ali
~~
Prewritten Prompt:   search
~~
Science never gives up searching for truth, since it never claims to have achieved it.
~John Charles Polanyi
Well, it's not easy to find something that you do not know exists.
~Patricia Nedelea
When you don't know what you're searching for, you have to look absolutely everywhere.
~Holly Black
If I had the choice of knowing the truth or searching for the truth, I'd take the search.
~Walker Percy
We're searching for the answers so we can destroy them and dream up better questions.
~Rob Brezsny
~
There is nothing so patient, in this world or any other, as a virus searching for a host.
~Mira Grant
~~
The Exercise:
pieces
whole and entire
no missing pieces here
verified, matter of pride
still, life needs a reason
for getting up
a search, perhaps
but not for need of:
love or God
peace or purpose
revenge or happiness,
knowledge (ahead and sprinting)
fame (evanescence in print)
riches (enviable pocket lint)
others to blame
nor any other half
whole and entire
no missing pieces here
verified true, matter of pride
still, life needs a reason
for getting up, he wrote
before he died
~
the calling
seek to survive
search to destroy
sense the connection
serve and protect
dangers of anger and bullets
split instants, spent decisions
same bequest old untamed west
guns 'n justice lawman's quest
with a will to kill
the drama rages
heroes with honor
thugs with badges
professionals
~
Posed
Is this the quest
or merely a question
a search for solutions
non-pontificating answers
rough with the instinctive
feel of justice
the herding of humanity
from the edge, or…?
The answer is: no
~
5-7-5-7-7
bare hunting reason
loaded guns primed, cocked for game
knee-jerk search for love
springtime and mating season
dark den alone feeling safe
~
5-7-5 x 5
eyes wide in surprise
lips big O, freeze in rictus
failed search for a laugh
~
green worlds gone dead brown
black clouds boil, roil blue skylines
search signs of clear rain
~
call me the diner
searching for your recipe
taste and smell of love
~
alive now today
eight billion universes
yours I search to find
~
frank need and blind faith
scant evidence for a god
why i search for You
~~
I'm not searching for the truth. That's too much pressure.
~Paul Beatty
Inspiration never arrived when you were searching for it.
~Lisa Alther
~
Many researchers say the dominant emotion experienced after loss is yearning or searching. And while you might feel more anger early on, it's accompanied by a whole host of other feelings.
~Meghan O'Rourke
There is no fury like an ex-wife searching for a new lover.
~Cyril Connolly
~
An audience is perhaps unnecessary to the soul-searching mystic, but it is vital to the magician, the maker of prodigies.
~Domenico Gnoli
Psychologists are men with nothing in their own minds, searching in the minds of others for an idea – in order to kill it.
~Harry Hooton
~
How beautiful the world was when one looked at it, without searching… just looked, simply and innocently.
~Hermann Hesse
I promise if you keep searching for everything beautiful in this world, you will eventually become it.
~Tyler Kent
~
At a certain point in his life he stopped searching for himself in everything that exists and gave in to temptations. Or, as you say, he sinned and later fled.
~Laura Esquivel
There is a difference between image and reputation. Image is nice. Reputation is developed over an entire career. Reputation is what I'm searching for.
~Alex Rodriguez
~
Most discoveries even today are a combination of serendipity and of searching.
~Siddhartha Mukherjee
The way you discover your gifts is really by serving not by searching.
~Loren Cunningham
~
I know well what I am fleeing from but not what I am in search of.
~Michel de Montaigne
Maybe you are searching among the branches, for what only appears in the roots.
~Rumi
~
The devil is everywhere under the skin of things, searching for a way into the light.
~J M Coetzee
Search others for their virtues, thy self for thy vices.
~Benjamin Franklin
~
Go where you will, if a shilling can there be procured, you may expect to meet with individuals in search of it.
~John James Audubon
Most likely there is someone searching for what you already know and take for granted.
~Jeffrey C Wickey
The greatest asset, even in this country, is not oil and gas. It's integrity. Everyone is searching for it, asking, 'Who can I do business with that I can trust?'
~George Foreman
~
Danger is the very basis of superstition. It produces a searching after help supernaturally when human means are no longer supposed to be available.
~Benjamin Haydon
The known was so depressing, it was hard to feel anxious about the unknown, and so searching for something else seemed natural.
~Addison Lane
Ordinary life does not interest me. I seek only the high moments. I am in accord with the surrealists, searching for the marvelous.
~Anais Nin
~
We are not more ingenious in searching out bad motives for good actions when performed by others, than good motives for bad actions when performed by ourselves.
~Charles Caleb Colton
We must leave this terrifying place to-morrow and go searching for sunshine.
~F Scott Fitzgerald
~
Many never realize they always had the key in their pocket, so they die at the locked door, never reaching deep inside to pull it out.
~Anthony Liccione
With considerable soul searching, that to the utmost of my ability, I have let truth be the prejudice.
~W Eugene Smith
~
I have found that searching for insight is more often than not a path to total darkness
~Andrew McMahon
What I think is this: You should give up looking for lost cats and start searching for the other half of your shadow.
~Haruki Murakami
Your vision will become clear only when you can look into your own heart. Who looks outside, dreams; who looks inside, awakes.
~Carl Jung
Searching outside of you is Samsara (the world). Searching within you leads to Nirvana.
~Amit Ray
Look within. Within is the fountain of good, and it will ever bubble up, if thou wilt ever dig.
~Marcus Aurelius
We were searching for ourselves in each other.
~Sergei Parajanov
~
When you're looking for someone, you're looking for some aspect of yourself, even if you don't know it … What we're searching for is what we lack.
~Sam Shepard
Where you come from is gone, where you thought you were going to was never there, and where you are is no good unless you can get away from it. Where is there a place for you to be? No place… Nothing outside you can give you any place… In yourself right now is all the place you've got.
~Flannery O'Connor
~
If we're missing life it's probably because we're expecting it to reveal itself to us, rather than realizing that life is revealed by us looking for it.
~Craig D Lounsbrough
Truth waits to be found. It searches for no one.
~Suzy Kassem
~
The world has been searching for you. It needs people who will step up and stand in the gap – those who aren't afraid to step off the sidelines and into how big is your dream.
~John A Andrews
~ ~
Quotes harvested from:
https://bookroo.com,  https://goodreads.com,  http://www.quotemaster.org,  https://quotes-inspirational.com, https://wisesayings.com
~
Video Harvest:  https://vimeo.com,  https://youtube.com
~. .~