Quoted in The Grove:  key
A wicked grin crinkled one corner of his mouth as he secured another sticky note on the door before shutting it in my face.
I blinked, then read the note.
Use the key.
~Darynda Jones
Life is rather like a tin of sardines – we're all of us looking for the key.
~Alan Bennett
Many never realize they always had the key in their pocket, so they die at the locked door, never reaching deep inside to pull it out.
~Anthony Liccione
EndQuote:
The key was in his hand, but she found a way to unlock herself.
~Anthony Liccione
~~
Exercise Prompt for 12/13:  machine
~~
The key to management is to get rid of the managers.
~Ricardo Semler
The key to being a good manager is keeping the people who hate me away from those who are still undecided.
~Casey Stengel
The key is to get to know people and trust them to be who they are. Instead, we trust people to be who we want them to be – and when they're not, we cry.
~David Duchovny
To me, the key to directing, to be honest, is just surround yourself with brilliant people and let them do their thing
~Dan Mazer
~ ~
Posted from the Grove
Lloyd George? There is no Lloyd George. There is a marvellous brain; but if you were to shut him in a room and look through the keyhole there would be nobody there.
~Margot Asquith
I've never looked through a keyhole without finding someone was looking back.
~Judy Garland
Temptation is the devil looking through the keyhole. Yielding is opening the door and inviting him in.
~Billy Sunday
Keyholes are the occasions of more sin and wickedness, than all other holes in this world put together.
~Laurence Sterne
The sun like a sneaky keyhole view of hell.
~David Foster
~
Would you dare to reach inside the vault of a feral heart? Glare into the keyhole, eyes bound with intrigue…is it real what we perceive?
~L V Hall
Scientists are peeping toms at the keyhole of eternity.
~Arthur Koestler
Science is wonderful at explaining what science is wonderful at explaining, but beyond that it tends to look for its car keys where the light is good.
~Jonah Goldberg
Time is a keyhole… We sometimes bend and peer through it. And the wind we feel on our cheeks when we do — the wind that blows through the keyhole — is the breath of all the living universe.
~Stephen King
~~
Five Keys:  Writing Advice from C S Lewis
https://writingcooperative.com/5-pieces-of-advice-on-writing-from-c-s-lewis-cb1679e68716
~
Keys to a painting:  The Death of General Wolfe,  by Benjamin West
https://www.nytimes.com/interactive/2020/11/25/arts/benjamin-west-general-wolfe.html
Thx to: Daily Pnut
~~
I started to build a home with all the walls I was putting up for myself, but when I was finished, I realized I had built a cage and didn't make a key.
~Lidia Longorio
That's the thing about depression: A human being can survive almost anything, as long as she sees the end in sight. But depression is so insidious, and it compounds daily, that it's impossible to ever see the end. The fog is like a cage without a key.
~Elizabeth Wurtzel
My body is a cage that keeps me from dancing with the one I love, but my mind holds the key.
~Arcade Fire
~
When I was eleven I stopped dreaming the dreams that didn't come true, I stopped talking to people who didn't listen, I lost hope and I retreated. I assumed that the root of the problem was that I was too strange for the real world. That being the case, I created a charming and dynamic personality to make the necessary forays into the Outside, and I kept my strangeness for myself; my own peculiar jewels under lock and key.
~Rosanne Cash
It is at the times when I feel that I have nothing that the gem lies in the palm of my hand.
~Holly A Smith
When I was 5 years old, my mother always told me that happiness was the key to life. When I went to school, they asked me what I wanted to be when I grew up. I wrote down 'happy'. They told me I didn't understand the assignment, and I told them they didn't understand life.
~John Lennon
~~
VIDEO:
Money is key to survival. Love is key to happiness.
~Nadair Desmar
It's a lot easier to be lost than found. It's the reason we're always searching and rarely discovered — so many locks not enough keys.
~Sarah Dessen
A soulmate is someone who has locks that fit our keys, and keys to fit our locks.
~Richard Bach
~
If love is the treasure, laughter is the key.
~Yakov Smirnoff
Smile, it is the key that fits the lock of everybody's heart.
~Anthony J D'Angelo
Laughter is the key that grace has arrived.
~Anne Lamott
~
By nature men are uncontrollable and wild, and it should be, but women have the key to control them, if they know how to use it.
~Debasish Mridha MD
The key to happiness is under the doorstep rug.
~Ljupka Cvetanova
Good friends and great pets. Key to a good life!!! Who says you have to be paired up with a partner?
~Jillian Barberie
~~
~Dust:  Alone   (18:49)   timing is key
https://www.youtube.com/watch?v=Afy3PqqfTT0
~
~Key & Peele:  Anger Translators   (2:50)   politics as comedy
https://www.youtube.com/watch?v=TYh4x7cceVE
~~
He was not my boyfriend. On the other hand, he wasn't just a friend either. Instead, our relationship was elastic, stretching between those two extremes depending on who else was around, how much either of us had to drink, and other varying factors. This was exactly what I wanted, as commitments had never really been my thing. And it wasn't like it was hard, either. The only trick was never giving more than you were willing to lose.
~Sarah Dessen
Without you, I would be like a lock without a key.
~Anthony T Hincks
It is better to lock up your heart with a merciless padlock, than to fall in love with someone who doesn't know what they mean to you.
~Michael Bassey Johnson
Never put the key to your happiness in somebody else's pocket.
~Anonymous
So I place my heart under lock and key, to take some time to look after me. But when I turn around you're standing there.
~Deborah Cox
Lack of communication is the key to any successful relationship going wrong.
~Pepa
From the Latin, con clavis: 'with a key'.
~Robert Harris
~~
MUSIC:
The piano keys are black and white but they sound like a million colors in your mind.
~Maria Cristina Mena
But when I first fell in love with the piano, I knew it was me. I was dying to play.
~Alicia Keys
A Minor is one of my all-time favorite keys to play in. It's a very moody key, and also 'A' is the first letter of my name. It just represents the songs through my eyes.
~Alicia Keys
The breath, prayers, and libido of the fingertip must somehow be transferred to the neutral indifference of the key.
~Russell Sherman
It's easy to play any musical instrument: all you have to do is touch the right key at the right time and the instrument will play itself.
~Johann Sebastian Bach
~
The sexiest woman musician is Alicia Keys.
~Pharrell Williams
I do like what Alicia Keys and John Legend are doing. With their music, you keep your clothes on.
~Ben E King
I wish we hadn't used all the keys on the keyboard.
~Bill Joy
Music is enough for a lifetime — but a lifetime is not enough for music.
~Sergei Rachmaninoff
~~
~Alicia Keys:  Brand New Me   (4:41)   bold and buff
https://www.youtube.com/watch?v=wOSv1TIa58M&list
-also-
~Alicia Keys:  Fallin'   (6:02)   full-throated joy, in concert
https://www.youtube.com/watch?v=my_El6mLr1I
~
~Keywest:  Something Beautiful   (3:59)   love leaves, but…
https://www.youtube.com/watch?v=Tr6OoWbLIKM
~
~Bertie Higgins:  Key Largo – Bogie & Bacall   (3:36)   a romantic tribute
https://www.youtube.com/watch?v=xeZdK7xRBD4
~~
I was born with a broken key in my mouth.
~Robert Black
I do not know what other people say, but what I know is that my key to happiness lies beneath my dark secrets and my deep sorrows. And I don't have what it takes to get that key.
~Ratish Edwards
Seated one day at the organ, I was weary and ill at ease, and my fingers wandered idly over the noisy keys. It seemed the harmonious echo from our discordant life.
~Adelaide Anne Procter
I thrive on change. That's probably why my chord changes are weird, because chords depict emotions. They'll be going along on one key and I'll drop off a cliff, and suddenly they will go into a whole other key signature. That will drive some people crazy, but that's how my life is.
~Joni Mitchell
~~

I once went to one of those parties where everyone throws their car keys into the middle of the room. I don't know who got my moped, but I drove that Peugeot for years.
~Victoria Wood
The key is to commit crimes so confusing that police feel too stupid to even write a crime report about them.
~R K Milholland
People say that money is not the key to happiness, but I always figured if you have enough money, you can have a key made.
~Joan Rivers
My dad's been having a hard time lately. Keeps on losing his keys. Can't hang on to a set of keys to save his life. And he has tried everything too: little hook next to the door, little bowl next to his bed, keychain makes a noise when you whistle. Nothing worked. So finally, this year for his birthday, the whole family chipped in – and we put him in a home.
~Anthony Jeselnik
Living one's life with unguarded vulnerability is one of the keys to happiness. It's also one of the keys to getting mugged.
~Dov Davidoff
The key to a good life: excess in moderation. They'll tell you moderation is the key to life, but that's bullshit.
~Doug Stanhope
Ignisecond, n.: The overlapping moment of time when the hand is locking the car door even as the brain is saying, "my keys are in there!"
~Rich Hall
~~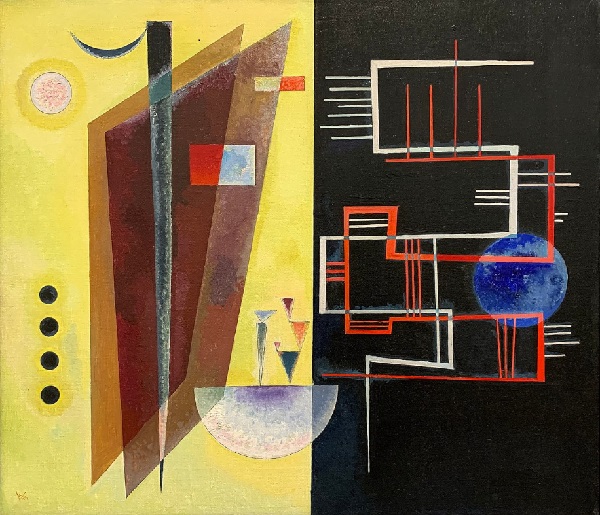 Inner Alliance
Wassily Kandinksky
~~
The key to success is action, and the essential in action is perseverance.
~Sun Yat-sen
The key of persistence opens all door closed by resistance.
~John Di Lemme
Don't give up. Normally it is the last key on the ring which opens the door.
~Paulo Coelho
Few ideas work on the first try. Iteration is key to innovation.
~Sebastian Thrun
Careers, like rockets, don't always take off on schedule. The key is to keep working the engines.
~Gary Sinise
~
The key to success isn't just thinking about what we are doing but doing something about what we are thinking.
~Peter Senge
The short-goal habit is key to larger success and is at the root of human greatness. Life is think and do, think and do, think and do. Small steps can be greater than great leaps.
~Robert Genn
A very little key will open a very heavy door.
~Charles Dickens
Today is the best day for anything and for everything! It is the only door you have; it is the only key you have!
~Mehmet Murat Ildan
~ ~
@Writers Platform
Language is the key to the heart of people.
~Ahmed Deedat
Sometimes people want to know how to write a story from the point of view of a murderer and make her sympathetic. I think the answer is that you start by having her look for her car keys, because everybody knows what it's like.
~Alice Mattison
I like having a phrase lying around to get poems started. It's like having a key.
~Shane McCrae
The keyhole is my lens as a writer.
~Nelson Rodrigues
The best of lessons, for a good many people, would be to listen at a keyhole. It is a pity for such that the practice is dishonorable.
~Sophie Swetchine
But people can escape into my world easily — artists are supposed to create a keyhole that people can look into.
~Lykke Li
Outlaws, like lovers, poets, and tubercular composers who cough blood onto piano keys, do their finest work in the slippery rays of the moon.
~Tom Robbins
We love the imperfect shapes in nature and in the works of art, look for an intentional error as a sign of the golden key and sincerity found in true mastery.
~Dejan Stojanovic
Love. Fall in love and stay in love. Write only what you love, and love what you write. The key word is love. You have to get up in the morning and write something you love, something to live for.
~Ray Bradbury
~~
~Stejovis: Contest Entry
Haiku at Hand
The haiku in this collection are in contemporary American English aiming at 12 syllables or less.
These are not according to the old style 5-7-5 format.
Kigo and juxtaposition are keys, including an exploration of colliding kigo.
bright sunshine
a space where the ash
long had stood
tombstones
keeping the place
nice and tidy
winter rain –
everything sticks
to everything
taurine moon
something excites
my risibilities
under the moon
anxious thoughts recall
her face
chill night air
stars come crisply
into view
colored leaves –
tree jackets
match mine
early crickets –
time to turn back
the clock
crisp night air –
a young deer
lies by the road
our bonfire is out –
a raven drinks
from my fathers bed
weekly hopefest –
lottery ticket
magic
a blue whale
opens its mouth –
bye-bye krill
pigeon roost
in a high gutter –
basement water
warm evening
mourning dove call –
my neck hair
head of the Nile
towers above us –
Victoria Falls
watchman's tower –
old source of death
long forgotten
towering virtue –
keen disappointment
unexpected
winter leaves –
their beds behind
are all askew
warm sunshine
small window admits
stamp trading
ruby moon –
wind stirred up
a real ruckus
~~
Sometimes to do the right thing, you have to break a law. And the key there is in terms of civil disobedience. You have to make sure that what you're risking, what you're bringing onto yourself, does not serve as a detriment to anyone else. It doesn't hurt anybody else.
~Edward Snowden
The key element in tragedy is that heroes and heroines are destroyed by that which appears to be their greatest strength.
~Robert Shea
~~
~GaryBob @NutNut Fountain
Stargazing
Lie down somewhere special. Perched on a mountainside or in the sands of a distant shore. On a blanket or in rolling fields of green. Anywhere you can see the sky. Close your eyes and count to 100. Slowly. With each breath.
Then open.
See the stars as if for the first time.
Watch them as if they are watching you.
Feel the warmth of the flickering candles as they dance above you in absolute perfection.
Shining.
Twinkling.
Falling.
Drink in the flames of the morrow star.
Shiver in the wake of a comet.
Race a shooting star over the horizon.
Sing into the soundlessness of eternity.
Breathe the dust of the infinite novas.
Seek the heights of astral truth.
This is the only way to stargaze.
~~
One key to learning and success is the willingness to try something new, and feel momentarily incompetent.
~Seth Godin
The key to enjoying the journey is being open to the unknown.
~Kristine Carlson
Failure is the key to success; each mistake teaches us something.
~Morihei Ueshiba
Before anything else, preparation is the key to success.
~Alexander Graham Bell
~
Teach a man to read and write, and you have put into his hands the great keys of the wisdom-box.
~Thomas Huxley
It is books that are a key to the wide world. If you can't do anything else, read all that you can.
~Jane Hamilton
Education is the key; only when you've got the MASTER key to unlock all the locks!
~Mwanandeke Kindembo
~~
Glass Table:
~thoreau:  Book review of "Archipelago", by Dan Jack
Archipelago is immersive speculative fiction from an author with a truly unique voice.
Most fiction has either – a first person POV, where protagonists purport to directly tell us what they are experiencing (though of course we don't have to assume they are reliable or fully self-aware:-), – or third person POV, where an (apparently) objective voice just reports who did what, who said what, with supposedly trustworthy, detached, Dragnet-style "just the facts" description of appearances.
But in Archipelago, the (seemingly) omniscient narrator's voice quickly reveals a delightfully ironic wit and offhand familiarity, for example in describing cultural aspects of an alternate history from the ours, where professional truth seekers are half scientist, half assassin, and half notary public. This voice has the passion and soul of an artist or poet, like the capital-R Romantics of the 18-19th centuries, mixing action and essay and confession, time and perspective shifting, that is quite hypnotic.
Everything in the world is bursting with meaning and connections and drama, and the narrative voice is gloriously alive to it all. "What happened next" can wait while we and the narrative voice luxuriate, refusing to be a slave to the relentless 1 second per second demand of the clock. I see the narrative voice as another person or character in the story, who reveals himself / herself / themselves as I read. That voice and inventive use of character-specific quotation marks with chapter heading "dramatis personae" gives the story a bit of the feel of an annotated screenplay or script of a play, which also encourages the reader to follow the narrator's lead.
~~
We live with the key purpose of receiving the approval of those around us because we don't know who we are in reality
~Sunday Adelaja
If the key to life is figuring yourself out; family must be the lock.
~L Darnell
Character is the key to becoming what you were meant to be. Without it, good books never get published, beautiful symphonies are never performed. Without character, we never accomplish anything.
~Nesta Jojoe Erskine
~~
Exercise Prompt:  key
~~
The Exercise
~BarTalk:
Existential
How did I get to be me in the Belizean keys
These eyes, these thoughts and the deep blue sea
Single moment, solo instant of destiny
An ephemeral life reaches epiphany
I wake each morning the usual me
Aware of being, but how is key
~
5-7-5-7-7  5-7-5
everyone's answer
the key to literature
maxims and music
bandied about, respected
trite, needy, self-serving love
longing for substance
something to share and give to
means she met someone
~
5-7-5-7-7 x 2
gate closed barricade
a door more wall than entrance
eyes clenched tight 'gainst light
lockdown life, steeled, guarded heart
love's key came a poisoned dart
~
he, his world was work
she, wise in the way of words
spoke the mother tongue
his look locked on fruition
her world keyed to empathy
~~
The single most important key to success is to be a good listener.
~Kelly Wearstler
I don't know the key to success, but the key to failure is trying to please everybody.
~Bill Cosby
Low expectations is the key to happiness in life.
~Christopher Miller
Unconditional acceptance of others is the key to happy relationships.
~Brian Tracy
Acceptance is the key to everything.
~Michael J Fox
The key to life was rearranging the furniture.
~Robert Ferro
One of the keys to happiness is a bad memory.
~Rita Mae Brown
The key to wisdom is knowing all the right questions.
~John A Simone Sr
Simplicity is the key to brilliance.
~Bruce Lee
If I've learned one thing in life, it's you can never go back.
~Stephanie Zimbalist
Skill-sets are the key of success.
~Brajesh Kumar Singh
There are no keys to success – only tools.
~Criss Jami
Style has no formula, but it has a secret key.
It is the extension of your personality.
~Ernst Haas
Is it possible to get another key? I think I've left mine in the room.
~Winston Churchill
~ ~
Quotes harvested from:  https://azquotes.com, https://brainyquotes.com
https://goodreads.com, https://wiseoldsayings.com
~
Video Harvest:  https://vimeo.com, https://youtube.com
~. .~