VOTE
Think of the most vulnerable person you know and vote in their best interest.
~unknown    (golden rule rephrased)
thx to:  Rusty's Electric Dream
~ ~
Quoted in The Grove:  voice
If a man harbors any sort of fear, it percolates through all his thinking, damages his personality and makes him a landlord to a ghost.
~Lloyd Douglas
Half of the failures in life come from pulling one's horse when he is leaping.
~Thomas Hood
A boat is safe in the harbor. But this is not the purpose of a boat.
~Paulo Coelho
EndQuote:
I am not afraid of storms for I am learning how to sail my ship.
~Louisa May Alcott
~ ~
Exercise Prompt for 11/08:   voice
~ ~
Fear is the highest fence.
~Dudley Nichols
Fear defeats more people than any other one thing in the world.
~Ralph Waldo Emerson
Everything you want is on the other side of fear.
~Jack Canfield
If your energy is expended in avoiding failure or rejection, then that energy is used to stay safe, instead of being available to create the life you envision.
~Lauren Mackler
Fear is the cheapest room in the house.
I would like to see you living
In better conditions.
~Hafiz
~ ~
Posted from the Grove:
If you turned the fabric of our lives over, I imagined the design on the backside would be woven in the bleak grays of doubt and fear.
~Stephenie Meyer
Our doubts are traitors and make us lose the good we oft might win by fearing to attempt.
~William Shakespeare
Fear of failure leads to failure.
~Paulo Coelho
~
Therefore, when I considered this carefully, the contempt which I had to fear because of the novelty and apparent absurdity of my view, nearly induced me to abandon utterly the work I had begun.
~Nicolaus Copernicus
The greatest mistake we make is living in constant fear that we will make one.
~John C Maxwell
A man's life is interesting primarily when he has failed – I well know. For it's a sign that he tried to surpass himself.
~Georges Clemenceau
You must do the things you think you cannot do.
~Eleanor Roosevelt
~
One of the greatest discoveries a man makes, one of his great surprises, is to find he can do what he was afraid he couldn't do.
~Henry Ford
The experience of overcoming fear is extraordinarily delightful.
~Bertrand Russell
~~
~Max Ehrmann:  Desiderata   (4:46)
https://www.youtube.com/watch?v=CaVaF6TkSUU
~
~Robert Frost:  The Road Not Taken   (2:30)
https://www.youtube.com/watch?v=vrBHd41YqTc
~
~Sadhguru: How to Overcome Fear? (1:46)
https://www.youtube.com/watch?v=uV_CGpMsEhY
~~
Why haven't we, with all our cunning [and] experience, resolved this problem of fear completely? Isn't fear the cause of the 'me'?
~Jiddu Krishnamurti
Fear is a question: What are you afraid of, and why? Just as the seed of health is in illness, because illness contains information, your fears are a treasure house of self-knowledge if you explore them.
~Marilyn Ferguson
Psychoanalysis is often about turning our ghosts into ancestors.
~Norman Doidge
My worst fear is that I'll end up living in some run-down duplex on Wilshire wearing pants hiked up to my nipples and muttering under my breath.
~Richard Dreyfuss
~
I am afraid to show you who I really am, because if I show you who I really am, you might not like it – and that's all I got.
~Sabrina Ward Harrison
Fear makes strangers of people who would be friends.
~Shirley MacLaine
He will never have true friends who is afraid of making enemies.
~William Hazlitt
~
We fear to know the fearsome and unsavory aspects of ourselves, but we fear even more to know the godlike in ourselves.
~Abraham Maslow
Our deepest fear is not that we are inadequate. Our deepest fear is that we are powerful beyond measure. It is our Light, not our Darkness, that most frightens us.
~Marianne Williamson
~~
VIDEO:
Fear is, I believe, a most effective tool in destroying the soul of an individual – and the soul of a people.
~Anwar Sadat
Neither a man nor a crowd nor a nation can be trusted to act humanely or to think sanely under the influence of a great fear.
~Bertrand Russell
~
Fear is not in the habit of speaking truth.
~Tacitus
When you tear out a man's tongue, you are not proving him a liar, you're only telling the world that you fear what he might say.
~George R R Martin
There is not a truth existing which I fear… or would wish unknown to the whole world.
~Thomas Jefferson
~
Scruples, temptations, and fears, and cutting perplexities of the heart, are often the lot of the most excellent persons.
~Thomas a Kempis
Some people fear seeing or feeling anything about which there is no general agreement. For others, it is thrilling to be aware of innuendo, shading, complexity.
~Deena Metzger
What Orwell feared were those who would ban books. What Huxley feared was that there would be no reason to ban a book, for there would be no one who wanted to read one. Orwell feared those who would deprive us of information. Huxley feared those who would give us so much that we would be reduced to passivity and egoism. Orwell feared that the truth would be concealed from us. Huxley feared the truth would be drowned in a sea of irrelevance.
~Neil Postman
~~
~Kat Messing:  Shoes – No Creeper   (0:12)   less said, the better
https://vimeo.com/302776656
~
~Kat Messing:  Fear   (0:22)   ditto
https://vimeo.com/290012027
~
~Olmeto:  Face Your Fears   (15:40)   stoopid is as stoopid does
https://www.youtube.com/watch?v=MNjxcwO9Koc
~
~Adrian Martin & Cristina Alvarez Lopez:  Angst/Fear   (3:15) a video essay
https://vimeo.com/69164651
~~
Fear is the mother of foresight
~Henry Taylor
Fear is the mother of morality.
~Friedrich Nietzsche
Fear is the father of courage and the mother of safety.
~Henry H Tweedy
Fear and courage are brothers.
~Terri Guillemets
Cruelty and fear are brothers.
~William Hardcastle Browne
Fear is the parent of cruelty.
~James Anthony Froude
~
Fear is an insidious and deadly thing. It can warp judgment, freeze reflexes, breed mistakes. Worse, it's contagious.
~Jimmy Stewart
Courage is contagious. When a brave man takes a stand, the spines of others are often stiffened.
~Billy Graham
Many of our fears are tissue-paper-thin, and a single courageous step would carry us clear through them.
~Brendan Francis
~ ~
MUSIC:
I am frightened at seeing all the footprints directed towards thy den, and none returning.
~Horace
Our deepest fears are like dragons guarding our deepest treasure.
~Rainer Maria Rilke
The man who has ceased to fear has ceased to care.
~F H Bradley
It's the heart afraid of breaking that never learns to dance.
It is the dream afraid of waking that never takes the chance.
~Bette Midler
~
There is no hope unmingled with fear, and no fear unmingled with hope.
~Baruch Spinoza
Where no hope is left, is left no fear.
~John Milton
~~
~Zach Williams:  Fear Is A Liar   (4:32)   …and a thief
https://www.youtube.com/watch?v=1srs1YoTVzs
~
~Lily Allen:  The Fear   (3:46)   tame for being explicit
https://www.youtube.com/watch?v=q-wGMlSuX_c
~
~Fiona Melady:  The Fear I Fear   (3:22)   disintegration
https://vimeo.com/5596072
~
~Blue October:  Fear   (4:54)   …with options
https://www.youtube.com/watch?v=Q3b0-i1T8Hk
~
~Ólafur Arnalds: WOVEN SONG (3:10) ethereal sound sculpture
~~
Fear has big eyes.
~Proverb
Fear makes the wolf bigger than he is.
~German Proverb
Little fears love to walk on stilts.
~Henry Stanley Haskins
Fear is a slinking cat I find
Beneath the lilacs of my mind.
~Sophie L Tunnell
~
A man who fears suffering is already suffering from what he fears.
~Michel de Montaigne
He who fears something gives it power over him.
~Moorish Proverb
He who shows fear gives courage to his adversary.
~Proverb
A coward's fear makes a brave man braver.
~English or Scottish
Nothing gives a fearful man more courage than another's fear.
~Umberto Eco
There are very few monsters who warrant the fear we have of them.
~Andre Gide
We are more often frightened than hurt; and we suffer more from imagination than from reality.
~Seneca the Elder
~~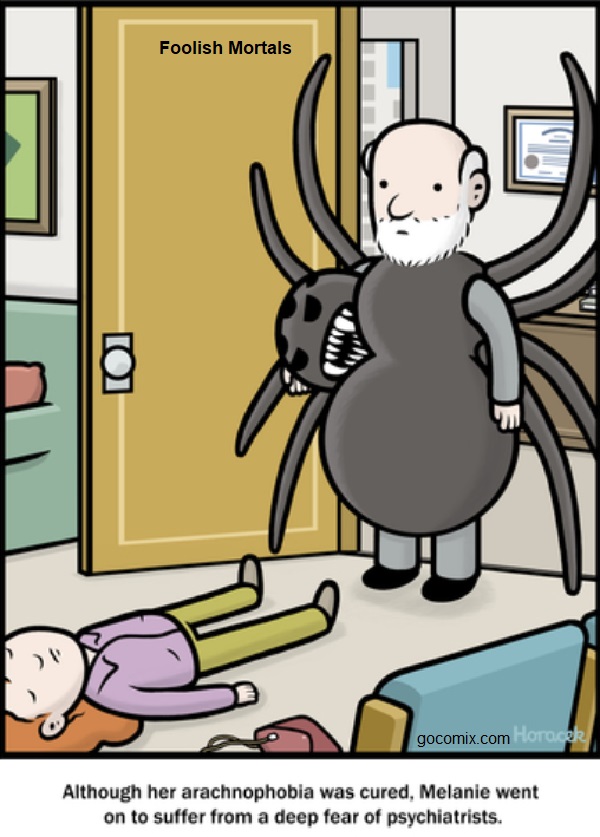 ~~
I do not fear death. I had been dead for billions and billions of years before I was born, and had not suffered the slightest inconvenience from it.
~Mark Twain
More people have a fear of speaking than a fear of death. So at a funeral, most people would want to be the person in the coffin rather than the person delivering the eulogy!
~Geoffrey Rush
I don't fear death, but I sure don't like those three-footers for par.
~Chi Chi Rodriguez
Someone has somewhere commented on the fact that millions long for immortality who don't know what to do with themselves on a rainy Sunday afternoon.
~Susan Ertz
~There is nothing to fear but fear itself. And spiders.
~Darynda Jones
Americans have an abiding belief in their ability to control reality by purely material means… airline insurance replaces the fear of death with the comforting prospect of cash.
Cecil Beaton
I don't fear death. – I just don't want to be around when it happens.
~Woody Allen
The idea is to die young as late as possible.
~Ashley Montagu
~~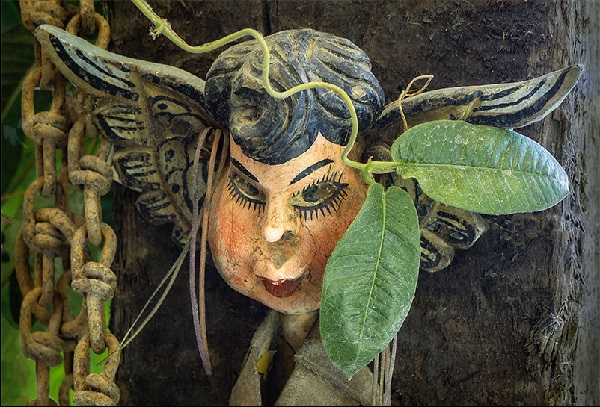 Antique Effigy
© David Lorenz Winston
~ ~
Worry does not empty tomorrow of its sorrow. It empties today of its strength.
~Corrie Ten Boom
Worrying is like a rocking chair, it gives you something to do, but it gets you nowhere.
~Glenn Turner
Worry is a cycle of inefficient thoughts whirling around a center of fear.
~Corrie Ten Boom
~
You can't let fear direct your life — because then you don't really move, you just stand still.
~Nyla Gibson
I have learned over the years that when one's mind is made up, this diminishes fear; knowing what must be done does away with fear.
~Rosa Parks
The way you overcome shyness is to become so wrapped up in something that you forget to be afraid.
~Lady Bird Johnson
Fear is the disease. Hustle is the antidote.
~Travis Kalanick
To be furious, is to be frighted out of fear.
~William Shakespeare
The best remedy for those who are afraid, lonely or unhappy is to go outside, somewhere where they can be quiet, alone with the heavens, nature and God. Because only then does one feel that all is as it should be.
~Anne Frank
~ ~
@Writers Platform
Where there is no imagination there is no horror.
~Arthur Conan Doyle
The fact is that blank pages inspire me with terror. What will I put on them? Will it be good enough? Will I have to throw it out?
~Margaret Atwood
It seems strange that some artists fear a blank canvas, when it has
been a major contributory factor to great paintings.
~David Luiz
~
One can choose to go back toward safety or forward toward growth. Growth must be chosen again and again; fear must be overcome again and again.
~Abraham Maslow
Fear doesn't go away. The warrior and the artist live by the same code of necessity, which dictates that the battle must be fought anew every day.
~Steven Pressfield
Beneath fear, a bit of poetry always escapes.
~Terri Guillemets
Writing is a form of therapy; sometimes I wonder how all those who do not write, compose or paint can manage to escape the madness, melancholia, the panic and fear which is inherent in a human situation.
~Graham Greene
~~
Exercise Prompt:   fear
~~
There are times when fear is good. It must keep its watchful place at the heart's controls.
~Aeschylus
Fear is an emotion indispensable for survival.
~Hannah Arendt
Never turn your back on fear. It should always be in front of you, like a thing that might have to be killed.
~Hunter S Thompson
It is better to know what to fear than to say "no fear."
~Tim Fargo
Just as courage imperils life; fear protects it.
~Leonardo da Vinci
Fear is one part prudence.
~Proverb
Poverty with security is better than plenty in the midst of fear and uncertainty.
~Aesop
Better beans and bacon in peace than cakes and ale in fear.
~Aesop
You are going to let the fear of poverty govern your life and your reward will be that you will eat, but you will not live.
~George Bernard Shaw
Those who fear life are already three parts dead.
~Bertrand Russell
You are frightened of everything. You call it caution. You call it common sense. You call it practicality. You call it playing the odds, but that's only because you're afraid to call it by its real name, and its real name is fear.
~Mick Farren
To fear is one thing. To let fear grab you by the tail and swing you around is another.
~Katherine Paterson
~~
The Exercise:
~BarTalk:
How It Ends
Lurid Adventure!
Unbridled Passion!
Alone against fear now
The sunset after sunrise
Weigh the gun until dawn
Just like in the book
Love was!
Clear-eyed with reason
At home safe alone
Share the fear with a movie
The sunrise after sunset
Put the pistol away
A book friendly ending
Love was.
~
Future History
Picture a pond with rocks thrown and ripples
While thinking of thoughts as sacred as secrets
Every generation of mankind long before history
Neanderthal before sapiens and all prior mystery
Creating culture and law, the product of pupils
With scruples the fruit, late harvest of struggles
Each penning their page in the stars' book of life
Recorded precisely, unerring, of deeds amid strife
Maturing spirit of science, humanity's cradle
Created as One, spiritually entangled
Our karma collective, atomized, intermingled
Wisdom absorbed from selfish examples
Consider our being eternal, unable to expire
Never fearing the idea, a literal lake of fire
Yet consequence awaits all of history's actors
Who experience the sequels of all they enacted
'Til our stormy sea ripples to merge
Lucid and clear, at peace at last
'Til our rough storied history turns
Crystalline brilliant as mirrored glass
~
5-7-5-7-7
taunts in the schoolyard
haunt the hunted with memories
like wolves in the wild
running, flailing, falling down
the acrobatics of fear
~~
Fear always springs from ignorance.
~Ralph Waldo Emerson
Nothing in life is to be feared, it is only to be understood. Now is the time to understand more, so that we may fear less.
~Marie Curie
~
A man who says he has never been scared is either lying or else he's never been any place or done anything.
~Louis L'Amour
We should enjoy and make the most of life, not because we are in constant fear of what might happen to us in a mythical afterlife, but because we have only one opportunity to live.
~Greg Graffin
I knew that if I allowed fear to overtake me, my journey was doomed. Fear, to a great extent, is born of a story we tell ourselves, and so I chose to tell myself a different story…
~Cheryl Strayed
In your days – things like this happen to you… You get a tap, a nudge, a gentle shake, and life whispers to you, "I know you're tired –
but I don't want you to miss this."
~Mary Anne Radmacher
Why, I'd like nothing better than to achieve some bold adventure, worthy of our trip.
~Aristophane
~~
Quotes harvested from:   https://azquotes.com, http://www.quotegarden.com , http://www.quotes-inspirational.com, https://wiseoldsayings.com
~
Video Harvest: https://vimeo.com , https://youtube.com
~. .~