Quoted in The Grove:  ghost
"We don't believe in ghosts, Mrs. Phipps."
"Don't matter if you believe in them or not. If they're there, they're there."
~Joan Lowery Nixon
Owen Glendower: I can call spirits from the vasty deep.
Hotspur: Why, so can I; or so can any man:
But will they come, when you do call for them?
~William Shakespeare
It is wonderful that five thousand years have now elapsed since the creation of the world, and still it is undecided whether or not there has ever been an instance of the spirit of any person appearing after death. All argument is against it; but all belief is for it.
~Samuel Johnson
EndQuote:
The paranormal, you can't pick and choose. It's all or nothing.
~Zak Bagans]
~ ~
Exercise Prompt for 10/25:   costume
~ ~
No ghost was every seen by two pair of eyes.
~Thomas Carlyle
I don't believe in ghosts and have never seen one. I wish I could see one, and I would like to have seen one because then I could believe in God. If I can see it, feel it and taste it, then I believe in it.
~Otto Penzler
I say I'm an atheist but I wouldn't mind being visited by a ghost.
~Natalie Dormer
All a skeptic is someone who hasn't had an experience yet.
~Jason Hawes
~ ~
Posted from the Grove
Surely the supreme problem for science to solve if she can, is whether life, as we know it, can exist without protoplasm, or whether we are but the creatures of an idle day; whether the present life is the entrance to an infinite and unseen world beyond, or "the Universe but a soulless interaction of atoms, and life a paltry misery closed in the grave.
~William F Barrett
Death is not the end, it is simply walking out of the physical form and into the spirit realm, which is our true home. It's going back home…. We unzip the body, so to speak, let it fall to the ground and walk through the next door clothed in our spiritual form, which was always there inside the physical body.
~Anne Puryear
I don't believe that ghosts are "spirits of the dead" because I don't believe in death. In the multiverse, once you're possible, you exist. And once you exist, you exist forever one way or another. Besides, death is the absence of life, and the ghosts I've met are very much alive. What we call ghosts are lifeforms just as you and I are.
~Paul F Eno
It is the secret of the world that all things subsist, and do not die, but only retire a little from sight, and return again…. Nothing is dead: men feign themselves dead, and endure mock funerals and mournful obituaries, and there they stand looking out of the window, sound and well, in some new and strange disguise.
~Ralph Waldo Emerson
~
Behind every man now alive stand thirty ghosts, for that is the ratio by which the dead outnumber the living.
~Arthur C Clarke
If each dead person became a ghost, there'd be more than 100 billion of them haunting us all. Creepy, but cool.
~Neil deGrasse Tyson
Science fiction is no more written for scientists than ghost stories are written for ghosts.
~Brian Aldiss
~ ~
VIDEO:
~Elemental's Markham Heid:  Why the Stressed Brain Falls Back on Old Habits
https://elemental.medium.com/why-the-stressed-brain-falls-back-on-old-habits-a84e3dd049c9
~
MADKESHWAR Foundation: Painting Trees  —  (2:28)   mid-air phantoms
https://www.youtube.com/watch?v=WA1eIFTBNWU
~
~Johnnie Walker Blue:  A Gentleman's Wager   (6:28)   would that all commercials were as entertaining — starring Jude Law & Giancarlo Giannini
https://www.youtube.com/watch?v=rTUKMhw4hr4
~~
Some places speak distinctly. Certain dark gardens cry aloud for a murder; certain old houses demand to be haunted; certain coasts are set apart for shipwreck.
~Robert Louis Stevenson
A house is never still in darkness to those who listen intently; there is a whispering in distant chambers, an unearthly hand presses the snib of the window, the latch rises. Ghosts were created when the first man awoke in the night.
~James Matthew Barrie
The Helicon of too many poets is not a hill crowned with sunshine and visited by the Muses and the Graces, but an old, mouldering house, full of gloom and haunted by ghosts.
~Henry Wadsworth Longfellow
~
The more enlightened our houses are, the more their walls ooze ghosts.
~Italo Calvino
The worst of a modern stylish mansion is, that it has no place for ghosts.
~Oliver Wendell Holmes
The spirits of the dead hallow a house, for me.
~Mark Twain
~~
~VICTORIA:  Xibalba   (2:05)   crossing over
https://vimeo.com/channels/staffpicks/466494550
~
~Omeleto:  The Wonderful   (9:09)   a do-over
https://www.youtube.com/watch?v=aq6eR0p2HPA
~~
To be seen is the ambition of ghosts, and to be remembered is the ambition of the dead.
~Norman O Brown
I think in a lot of cases, ghosts are history demanding to be remembered.
~Jeff Belanger
Ghosts don't haunt us. That's not how it works. They're present among us because we won't let go of them.
~Sue Grafton
[H]e had a strange sense of being haunted, a feeling that the shades of his imagination were stepping out into the real world, that destiny was acquiring the slow, fatal logic of a dream. 'Now I know what a ghost is,' he thought. 'Unfinished business, that's what.'
~Salman Rushdie
~~
MUSIC:
True love is like ghosts, which everyone talks about and few have seen.
~Francois de La Rochefoucauld
I long to talk with some old lover's ghost,
Who died before the god of love was born.
~John Donne
~
…Lovers are
Like walking ghosts, they always haunt the spot
Of their misdeeds.
~George H Boker
Of all ghosts the ghosts of our old loves are the worst.
~Arthur Conan Doyle
If you listen carefully, you can still hear the beating of his broken heart.
~David Berenbaum
~~
~Grateful Dead:  Attics of My Life  —  Pepper and Sassafras cover   (4:04)   simple by design
https://www.youtube.com/watch?v=almbctWcGLY
~
~Juice Newton:  Angel of the Morning   (3:53)   a classic
https://www.youtube.com/watch?v=HTzGMEfbnAw&list
~
~Spiderbait:  Ghost Riders in the Sky   (4:51)   the outlaw rider
https://www.youtube.com/watch?v=NvBHDRsFAmo
~
~Amanda Lago:  Ghost   (3:40)   abandoned, ghosted
https://vimeo.com/230441767
~~
Love, thieves, and fear, make ghosts.
~German Proverb
My ghost? Do you suppose I'm fool enough to go to the expense of keeping one of my own, when there are so many charming ones in my friends' closets?
~Edith Wharton
This is a true story. There's not much point in inventing ghost stories — anyone can do it.
~Michael McCabe
The experienced reader knows it was Christmas Eve, without my telling him. It always is Christmas Eve, in a ghost story.
~Jerome K Jerome
~~

~~
Ye who, passing graves by night,
Glance not to the left nor right,
Lest a spirit should arise,
Cold and white, to freeze your eyes…
~James Russell Lowell
Yesterday, upon the stair,
I met a man who wasn't there.
He wasn't there again today,
I wish, I wish he'd go away.
When I came home last night at three,
The man was waiting there for me
But when I looked around the hall,
I couldn't see him there at all!
~Hughes Mearns
But then there was that talk about a spectre cat. I ain't frightened of much that I know of. Put a man before me, or a dog, or a horse, and I'm ready to tackle 'em, one down and other come up, or altogether if they like; but when you come to spectres, I ain't ashamed to say I'm not up to 'em…. Anything that's alive I don't give way to; but when it comes to ghosts and spectres, I take a back seat, and I don't care who knows it.
~B L Farjeon
We once installed a $1.49 trap in a woman's toilet and she never had ghost problems again.
~Jason Hawes
~
Must be a rule in the ghost handbook — if in danger of evaporating, make sure you're in the middle of a dire pronouncement.
~Kelley Armstrong
Never walk near the bed; to a ghost your ankle is your most vulnerable part — once in bed, you're safe; he may lie around under the bed all night, but you're safe as daylight. If you still have doubts pull the blanket over your head.
~F Scott Fitzgerald
If anyone boos you offstage, that is simply applause from ghosts.
~Sharon Needles
You're spooky, he said, You knew what I was thinking. That's not spooky, she said, That's married.
~Dean Koontz
~~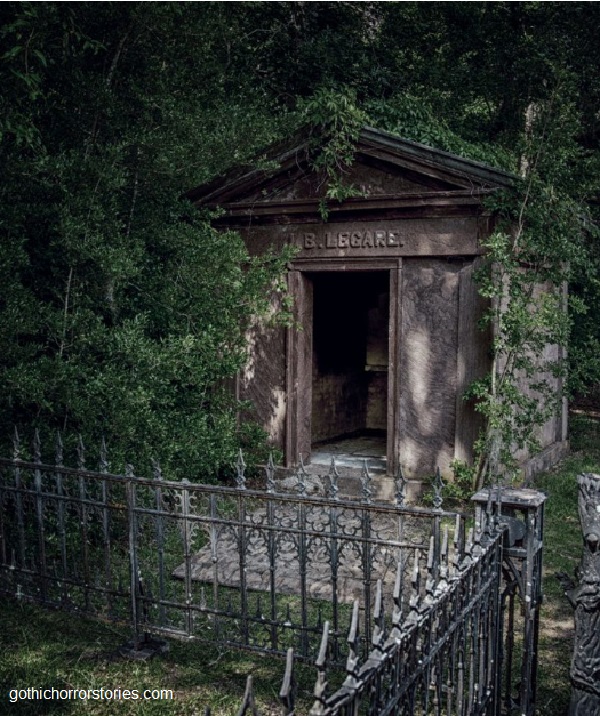 ~~
O Death, rock me asleep, bring me to quiet rest, let pass my weary guiltless ghost out of my careful breast.
~Anne Boleyn (beheaded)
Even more than dying itself, I'm scared of the horror-movie changes that happen to the human body as it ages. I think of it as a sort of haunted-house effect, living inside a crumbling, creaking structure that is full of ghosts and will, some day, fall down.
~Kate Christensen
We stopped looking for monsters under our bed when we realized that they were inside us.
~Charles Darwin
I give the fight up: let there be an end,
A privacy, an obscure nook for me.
I want to be forgotten even by God
~Robert Browning
If the dead can't rest in peace, how on Earth can the living?
~Cheri Revai
~
Tis now the very witching time of night, when churchyards yawn, and hell itself breathes out contagion to this world.
~William Shakespeare
It's a big spooky place when you're in it alone. It's like you can hear all the whispers of all the voices of all the actors who ever played here. Kind of creepy. Like a church can be creepy when it's empty. You ever been in a church after hours?
~Benjamin R Smith
One of the things people don't know about exorcism, is that you can't really use exorcism on things that are older than Christianity.
~Dolores Ashcroft-Nowicki
Be careful, lest in casting out your demon you exorcise the best thing in you.
~Friedrich Nietzsche
~~
@Writers Platform
Nature is a Haunted House – but Art – a House that tries to be haunted.
~Emily Dickinson
There is something ghostly in all great art.
~Lafcadio Hearn
~
Be hole, be dust, be dream, be wind
Be night, be dark, be wish, be mind,
Now slip, now slide, now move unseen,
Above, beneath, betwixt, between.
~Neil Gaiman
Shadows mutter, mist replies;
darkness purrs as midnight sighs.
~Rusty Fischer
~
I like the ephemeral thing about theatre, every performance is like a ghost – it's there and then it's gone.
~Maggie Smith
It's not a field, I think, for people who need to have success every day: if you can't live with a nightly sort of disaster, you should get out. I wouldn't describe myself as lacking in confidence, but I would just say that the ghosts you chase you never catch.
~John Malkovich
~~
Exercise Prompt:  ghost
~~
When not deeply engaged in creative activities, or numbed by the TV, I felt empty and hungry. My heart hurt… I often felt hollow or as if I were some kind of wispy ghost, barely existing.
~Judith Wright
I don't see the point of having 80 million people online if all they are doing in the end is talking to ghosts in the suburbs.
~Umberto Eco
~
To put away one's own original thoughts in order to take up a book is a sin against the Holy Ghost.
~Barbara Tuchman
The pencil of the Holy Ghost hath labored more in describing the afflictions of Job than the felicities of Solomon.
~Francis Bacon
~~
The Exercise:
~BarTalk:
Autobiography
Worthy warlocks, authors' due
Bled black ink, dead poets hue
Libros, ego's Church of Worship
Uninhibited books extolling selves
Books like ghosts inhabit shelves
Undaunted ids dead yet flaunting
Haunted, unblunted storied lives
~
Oh $#!+  F**K
Theatres open
Showings random
Audiences haunted
Storied fandom
Ghosts from the past
Mirrored phantoms
Shedding actors
Tearfully canned 'em
~
Wish
I want to be awake at the end
Vigilant
To cross that bridge from life
To be aware as a ghost
Or evaporate
To dissipate as energy
Like an echo
Or a lightning bolt
~
The Deal
There grows a mind overseeing the net
Overlooking, overriding, overall and yet
There's a ghost above all that owes us a debt
Wisdom from sins we committed and abet
Consequence, not the answers we hoped to get
~~
I was such a sullen, angry, sad kid. I'm sure there are writers who have had happy childhoods, but what are you going to write about? No ghosts, no fear. I'm very happy that I had an unhappy and uncomfortable childhood.
~Isabel Allende
It is, alas, chiefly the evil emotions that are able to leave their photographs on surrounding scenes and objects and whoever heard of a place haunted by a noble deed, or of beautiful and lovely ghosts revisiting the glimpses of the moon?
~Algernon Blackwood
There are nights when the wolves are silent and only the moon howls.
~George Carlin
I love having my ghosts, and I love having my memories.
~Debbie Reynolds
~
Our feet are planted in the real world, but we dance with angels and ghosts.
~John Cameron Mitchell
If you knew that your life was merely a phase or short, short segment of your entire existence, how would you live? Knowing nothing 'real' was at risk, what would you do? You'd live a gigantic, bold, fun, dazzling life. You know you would. That's what the ghosts want us to do – all the exciting things they no longer can.
~Chuck Palahniuk
~~
Quotes harvested from:  https://azquotes.com, https://brainyquotes.com
http://www.quotegarden.com, https://wiseoldsayings.com
~
Video Harvest: https://vimeo.com , https://youtube.com
~~

~. .~