Quoted In The Grove:
Aphorisms respect the wisdom of silence by disturbing it, but briefly.
~Yahia Lababidi
Silence at the proper season is wisdom, and better than any speech.
~Plutarch
Gray hairs are signs of wisdom if you hold your tongue, speak and they are but hairs, as in the young.
~Rabindranath Tagore
EndQuote:
No, that is the great fallacy: the wisdom of old men. They do not grow wise. They grow careful.
~Ernest Hemingway
~ ~
Posted from the Grove
New Music: Gaelynn Lea
Watch the World Unfold   (4:08)
Lost In The Woods   (2:23)
Breathe, You Are Alive   (4:07)
~ ~

~ ~
Prewritten Exercise for Thurs 05/09:   froth, reflect
~ ~
@Writers Platform
Glass Table:
Golden Bandana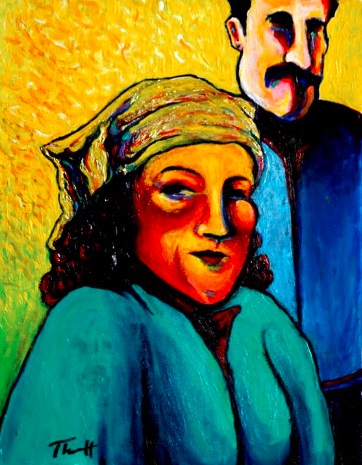 Our days are comprised of a long sequence of routine events, yet every once in a while a singular unexpected moment can define how we see the world. This painting and poem imagine one such encounter.
~
Gathered my bones to sit on the stoop
Watching the world clatter on.
Wheels spin and exhaust
Bi-peds wander by lost
Fixed to their palms
Tapping and swiping through
Tunnels sans walls.
Harsh booming this dissonant scene
Suggested the thought of an exit
When there from stage left
She emerged.
Dressed in green flowing
Like the crest of a wave
Growing the light from
Above a bandana of gold.
A sudden wind snapped
Turning her cheek
And there our eyes met,
Her stride did not waiver while her
Gaze locked on mine.
In that moment all the world smiled
The air suddenly mild
Vibrations of bright and soft humming.
Across the way, out of the blue
A man with a coat the same color
Threatened to pass in between.
Instead she side stepped then vanished
And left beyond the prayer trees.
The lug lumbered on not knowing
A gift he upended.
With the moment suspended
I sat chin in hand
Frustrated and wanting
Sighing then smiling
Trying to hold on to the
Bandana of gold.
Artwork and poem by:
~Greg Thweatt
A song on letting go by Ingrid Michaelson – Maybe
~ ~
Prewritten:   charm, costume
~BarTalk
Next Legend
Ripped body special cape
Uniquely wow new power
Fatal charm quirky smile
Challenges to die for
But costume makes the man
~
5-7-5 x 7
costume amulet
a charm to tame intrepid
ignite insipid
~
costumed riverbed
moss and rocks and trees that charm
water streaming live
~
costumed in cotton
utter charm old frayed comfort
tossed out in tatters
~
love or hate disguised
dangerous costume for spies
charm disarms instead
~
October costumes
charmed season rainbow foliage
Halloween on stage
~
undetectable
chameleon in costume
has no thought of charm
~
costume uniforms
orthodoxy staged with charm
uniform costumes
~ . ~