Quoted in the Grove:
Few nations have been so poor as to have but one god. Gods were made so easily, and the raw material cost so little, that generally the god market was fairly glutted and heaven crammed with these phantoms.
~Robert Ingersoll
The most preposterous notion that H. sapiens has ever dreamed up is that the Lord God of Creation, Shaper and Ruler of all the Universes, wants the saccharine adoration of His creatures, can be swayed by their prayers, and becomes petulant if He does not receive flattery. Yet this absurd fantasy, without a shred of evidence to bolster it, pays all the expenses of the oldest, largest, and least productive industry in all history.
~Robert Heinlein
God is an imaginary friend for grown-ups.
~anon
EndQuote:
I would rather live my life as if there is a God and die to find out there isn't, than live my life as if there isn't and die to find out there is.
~Albert Camus
~~
Posted from the Grove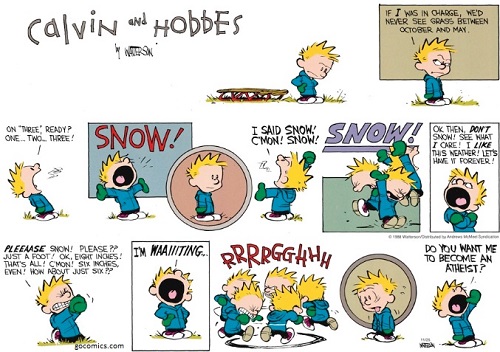 ~~
A recent discovery: Postmodern Jukebox covers
Following, a story (or a journey if you prefer) loosely told in five songs. About 27 minutes of perfectly splendid music
~Radiohead's  Creep – with Haley Reinhart   (4:55)
~Aerosmith's  Dream On – with Morgan James   (5:21)
~Meghan Trainor's  All About That Bass – with PMJ trio (4:15)
~Ellie Goulding's  Burn – with Flame-O-Phone (4:12)
~Cars' Just What I Needed – with Sara Niemietz (3:58)
~ ~
Prewritten Exercise for Thurs 12/06:  accident, nuance
~ ~
@Writers Platform
Prewritten Exercise:  litmus, metal
~BarTalk:
Reunion Daydream
Met all kinds at the fall gatherin'
Like 'em all, loved only one of 'em
Not rich an' scarce a beauty
Best brains in school, you see
English Lit mus' have been heavenly
Grow old together, Grammar an' Grumpy
~
Justice 4 Just Us  #8
Liking a color of lichen
The purple of litmus
Not red or blue but royal
For the base and loyal
Metal bars for the press
~
Words  #1
Words, base metal of ideas
That created civilization
Have synonyms that create
Reasons to hate
Words  #2
Speak to be understood
To get what you want
Write to be remembered
Time's litmus of existence
~
5-7-5 x 4
pedal to metal
brand new litmus of success
burnout at thirty
~
acid test of art
the litmus of fine acting
base motives ring true
~
imagine thin air
carved open with cold blue steel
as if metal could
~
Litmus Medicine
plastic/metal prosthetics
Bruised blue? Reddy cures!
~ .  ~